Atelier Residence | Sharm El Sheikh
Features
Gym
kids play area
Kitchen
Laundry
Pool View
Private parking
Security System
Swimming Pool
TV Cable
Details
PROJECT DESCRIPTION
WHERE RESIDENCE MEETS ART
Imagine living in a contemporary and comfortable residential community located in the well-known El-HADABA district in the peaceful city of Sharm El Sheikh… With fantastic beaches, restaurants and shopping just a stroll away, and every feature, service and amenity specially created to fulfil your every need… Where residence meets art… however, This is Atelier Residence.
WELCOME TO ATELIER LIVE AN ART FULL LIFE
Atelier Residence is a residential community combining contemporary design, leisure, and maximum comfort. Created as an affordable and art-inspired place to call home, Atelier Residence will feature permanent and temporary artwork displays and workshops enhancing the way residents live. Owners are invited to live within an art-inspired environment, where paintings and sculptures created by local and foreign artists, will be exhibited in every corner of the compound. Regular interactive workshops will host notable artists to engage with the residents in a variety of artistic activities. With Sinai's mountains and the clear blue waters of the Red Sea as the backdrop, a comfortable collection of apartments and artful attractions at reasonable price points, are available to suit multiple tastes. Atelier Residence, ISSADA Touristic Development's second residential compound, is thoughtfully designed, amenity-rich and set to be one of Sharm El Sheikh's most appealing communities.
Location
HADABA OM EL SEED THE HILL—ON TOP OF IT ALL
Atelier Residence is located in El HADABA, a high plateau that is considered to be the best residential neighbourhood in Sharm El Sheikh. Many hotels, offices, cafes and restaurants, shops and hypermarkets are located in El HADABA providing an enjoyable experience for visitors and residents alike. Sharm El Sheikh's city council, post office, police station, many international schools, the main bus station and most of the city's banks are also located in El HADABA, Atelier residence is situated in the neighbourhood's heart—it is a 15-minute drive to the airport, and a few minutes from major attractions including the Carrefour, several beaches, Il Mercato, the old market, hospitals, international schools, an aqua park and Naama Bay. The new Sharm-Cairo Road places Atelier Residence just 4 hours from Cairo by car.
SITE PLAN
They have designed Atelier Residence with the help of ACE—Al Fatah Consulting Engineers, a well-known architectural consultancy firm operating in Egypt and the Gulf. Together, a functional design, set within coastal interfaces, was developed. The compound is 10000 square meters in size—40% of the area is built on, while 60% has been left for landscaping. The main building comprises two levels forming a square, with an enclosed atrium for many of the community's amenities. First-floor residents will enjoy an open sky view from their terrace, whereas ground-floor units experience direct sunlight and direct views of the landscape. Sinai's colourful mountains. and beautiful symbols of Egypt's nature surround the entire community. Designed to provide the feeling of comfort in a way, the architecture and landscaping create a functional and inviting place to live.
PROJECT HIGHLIGHTS
THE RESIDENCES MAKE YOURSELF AT HOME
Cozy and contemporary, all 90 Atelier Residence apartments are delivered fully finished. In addition to a practical interior design. all materials come from top local and international sources. Every apartment has a front terrace with views of the community's landscape. There are 10-unit types in total—one-, two-, and three-bedroom apartments on either the ground floor. or first floor, from 70 square meters to 171 square meters in size.
EYE FOR DESIGN AN ATELIER PERSPECTIVE
Inside this comfortable community, all units overlook the Residence's natural internal landscape, including the swimming pools and children's area. The soft and Hardscape, paired with thoughtfully designed greenery and artwork displayed throughout, lend the community a cozy feel.
AMENITIES & FEATURES COME HOME TO EVERYTHING YOU NEED
They filled atelier Residence with exclusive comforts and services, redefining community living, a management company, Property management oversaw All of Atelier Residence's amenities, services and features for investment needs is also available.
Offering ease of accessibility to and from your home, the community offers a main entrance and two secondary entrances conveniently locate at the corners of the building complex. Four streets surrounded the grounds, providing parking lanes for residents.
THE COMMUNITY YOU'LL LOVE LIVING HERE
It has developed a large commercial area to ensure an exciting life for all residents. Restaurants, cafes, shops, a pharmacy and supermarket, a fitness center and other facilities, serving both the residents and visitors, will all be available in Atelier Residence. Should residents choose to explore life beyond the comfort of their community, the El Hadaba district is just outside their doors and filled with plenty of excitement as well. As a part of the community's art-inspired design, they have developed an Atelier Residence arts program. The program will showcase art, permanent and temporary, in all mediums throughout the community. Art workshops featuring multidisciplinary artists will be on offer, as well as arts and crafts lessons for children.
FINANCIAL DETAILS
—Starting 75M²
—%50 Down payment.
—%50 Installments over 12 Month paid quarterly free possibility to finance through bank mortgage for period extend from 5 years up to 10-year payment plan. (terms & conditions to be followed according to bank policy).
—Units status are (Ready to Move-in) Now in
Atelier Residence.

You can find more from us on google: RELATED
Plans
75M² One bedroom Atelier Residence
80M² One Bedroom Atelier Residence
85M² One bedroom Atelier Residence
90M² One bedroom Atelier Residence
120M² Two bedroom Atelier Residence
128M² Two bedroom Atelier Residence
134M² Two bedroom Atelier Residence
142M² Two bedroom Atelier Residence
161M² Three bedroom Atelier Residence
171M² Three bedroom Atelier Residence
LIVE Photos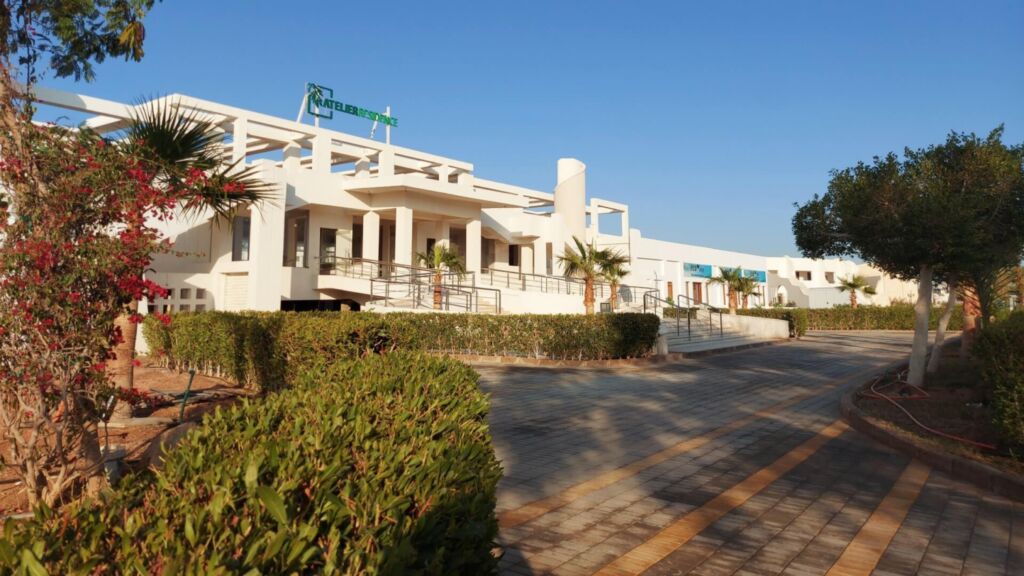 Video